Viktor & Rolf – Bonbon Perfume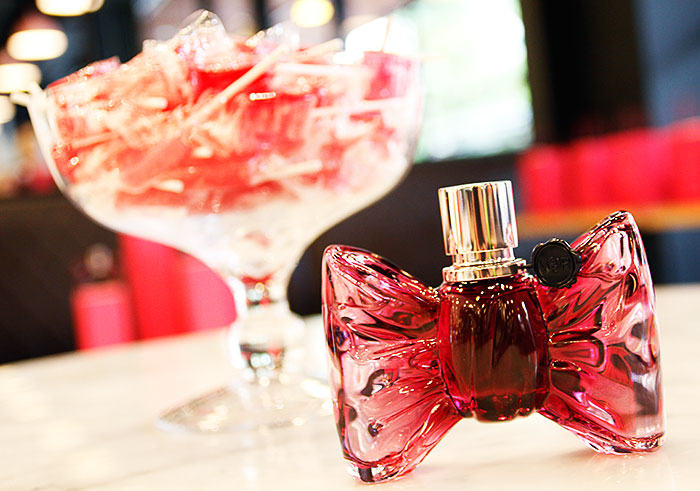 Viktor & Rolfs Flowerbomb är nog en av dom mest hajpade parfymerna så att få en inbjudan till ett event med uppföljaren Bonbon gjorde mig överlycklig!
Jag älskar fina parfymflaskor och använder dom gärna som dekoration och gömmer helst inte igen dom i badrumsskåpet, såna här skönheter som bonbon från Viktor & Rolf måste stå framme!
Fast det är väl kanske inte själva flaskan som är det viktigaste utan innehållet. Viktor & Rolf själva kallar detta för en karamellsenation! Huvudnoten är karamell och är den röda tråden i denna parfym. I toppnoterna hittar vi mandarin och apelsin samt persika. I Hjärtnoterna hittar vi jasmin & apelsinblomma. Och i basnoterna hittar vi de mer träiga noterna som guaiac- och cederträ, sandelträ och en träig amber.
Personligen så gillar jag Bonbon mer än Flowerbomb eftersom denna är sötare i doften.
Bonbon finns redan i butik och vi kommer hitta den i ett fåtal exklusivt utvalda butiker och självklart på NK, Åhléns City och kicks.se! 30ml/635sek, 50ml/845sek och 90ml/975sek
Har du hunnit lukta på bonbon? Tror du den kommer bli lika stor som flowerbomb? Större?
Short translate: Viktor & Rolfs Bonbon is out in swedish stores, i love the bottle and i actually like bonbon more than flowerbomb.