The Body Shop Smoky Poppy Limited Edition!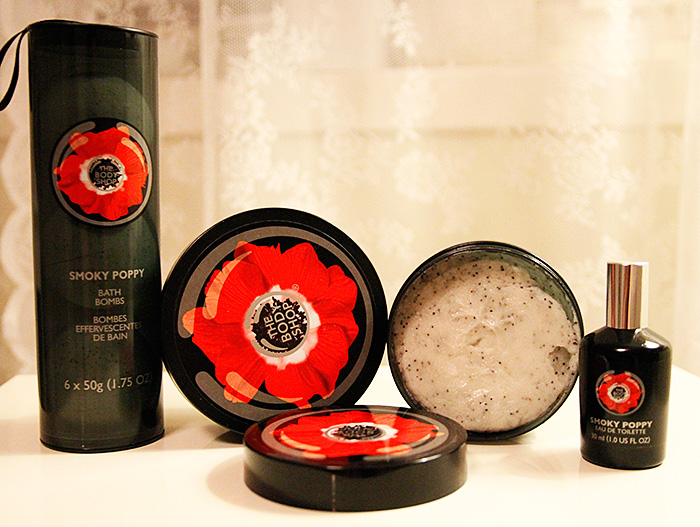 The Body Shop har ju lanserat Smoky Poppy serien inför alla hjärtans dag där vi ser 7 produkter med inslag av handplockad vallmo och doftnoter som ska vara kryddig och träig och The Body Shop beskriver serien som sensuell och förförisk i sin beskrivning av några produkter. Jag har fått prov på 4 av produkterna varpå Edtn går bort ganska snabbt för min egen del då denna doftar gammal tvål/mormor och dessutom väldigt starkt! Något som däremot går hem hos mig är kroppsskrubben! Ingen som blev förvånad va? I love body scrubs! Jag sörjer dock att jag inte har något badkar och inte kan testa badbomberna för dom har jag läst mycket gott om!
Hela Smoky Poppy serien innehåller:
– Smoky Poppy Bath Bombs 150sek för 6x50g
– Smoky Poppy Body Butter 185sek för 200ml
– Smoky Poppy Body Lotion 155sek för 250ml
– Smoky Poppy Body Massage Oil 175sek för 150ml
– Smoky Poppy Edt 155sek för 30ml
– Smoky Poppy Poppy Seed Scrub 195sek för 200ml
– Smoky Poppy Shower Gel 85sek för 250ml
Ska ni prova något så tror jag det är skrubben och badbomberna som gäller, gillar ni inte starka damiga dofter så håll er borta från Edtn! ;) Resten av serien verkar dock inte dofta lika starkt/tantigt, i alla fall inte de produkter jag har! Väldigt synd att det känns som flertalet känner som mig doftmässigt för denna serien, jag tror inte att det är det här som blir skönhetspresenten inför alla hjärtans dag. Kanske tur detta är en limited edition doft för jag tror den kommer sälja sådär! Men jag håller tummarna för alla er med badkar att badbomberna är något som The body shop fortsätter med även i andra doftserier!
Vad tycker ni om Smoky Poppy? Har ni testat något ur serien?
*inlägget innehåller annonslänkar