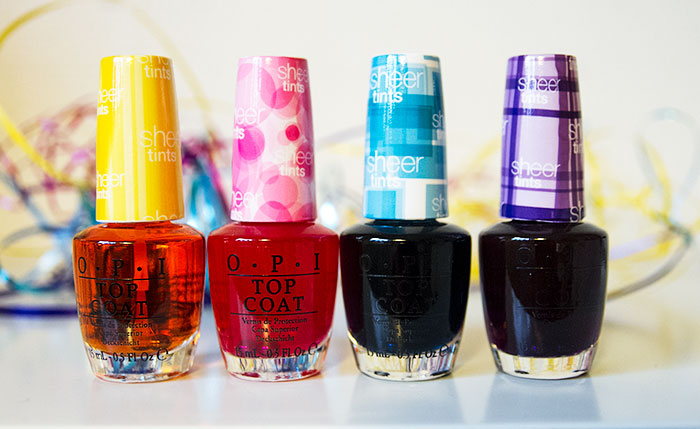 I´m never amberrassed, Be magentale with me, I can teal you like me & don´t violet me down!
En av OPI´s senaste nyheter är topplacken Sheer Tints (150sek styck) som ska gå att använda på egen hand eller ovanpå andra lack för att skapa nya nyanser! Aida har swatchat alla lacken utan lack under och inget av lacken känns speciellt lockande att använda på egen hand! Då är det nog ett flertal lager som gäller så dom blir lite mer täckande. I´m never amberrassed skulle då göra mig väldigt embarrassed med tanke på att det ger en effekt av naglar som antyder "hej jag har rökt i 70 år!", inte så fräscht.
Jag kan tänkte mig att om man hittar rätt lack till rätt topplack så kan man nog skapa jäkligt snygga och nya nyanser! Jag hade behövt fler naglar för att hitta lite grymma kombos! Lacken lanseras vecka 16 så jag tänkte se om jag lyckas visa er lite snygga (och antagligen en del fula :P) kombinationer innan dess! :)
Vad tycker ni om OPI`s senaste nyhet? Väldigt rolig idé tycker jag så nu ska jag bara testa och se om lacken levererar!