Garnier Respons Mythic Olive
Garnier Respons Mythic Olive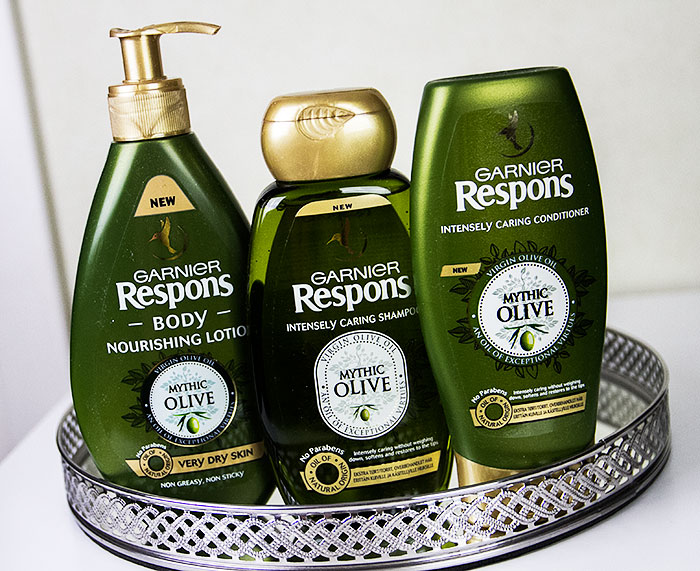 Garnier Respons Mythic Olive – nu även med kroppsvård!
Garnier har lanserat kroppsvård! Här ovan ser vi en body lotion som ingår i deras Mythic Olive serie som riktar sig mot mycket torr hud! Nyckelingrediensen är jungfruolivolja som är känd för sin enastående styrka och förmåga att vårda samt mjukgöra både hud och hår!
Jag trodde serien skulle dofta mer åt olivhållet men bodylotionen doftar så gott! Jag tänker på sommar när jag känner doften så den är lite mer åt det blommiga hållet! Väldigt lättsam och trevlig!
I serien Mytic Olive så ingår även Schampo, Balsam (är med på bilden), inpackning och även en torrolja i sprayflaska! Produkterna i serien ligger på 20-50sek styck så det är riktigt bra pris på dessa!
Har ni testat Garnier Respons Mythic Olive? Vad tyckte ni? Vid första anblick så känns det som Garnier Respons Mythic Olive body lotion kan vara något som kommer passa mig!
Short translation: Garnier has launched body products!  Above we see a body lotion that is part of their Mythic Olive series. The key ingredient is virgin olive oil which is known for its outstanding strength and ability to nurture and soften the skin and hair! I thought the series would smell more olive but the body lotion smells so good!